2018 saw some real winners emerge in the blockchain space, along with more than a handful of losers.
Who were the winners of 2018 though?
That's what this article is here to address…
This list is not authoritative and includes obvious biases, however attempts have been made to remain as objective as possible.
Following in this vein, only projects with unlocked tokens sometime in 2018 have been included and taken into consideration for this list.
Our Assessment Criteria:
Scoring was biased toward projects that:
Made significant strides in technical and/or community development efforts throughout the year;
Created real-world value through adoption of product and/or services; and
Maintained or exhibited positive price action throughout the year (relative to BTC)
Four primary categories for assessing each project came down to:
#1 Product/Technical development
Did the project actually BUIDL?
Does the underlying product work?
How did the product or service develop throughout the year?
#2 Community and marketing
How effective was the project's marketing efforts?
How strong is the project's community? (size and commitment)
How did the project communicate with and build out their communities?
#3 Business development and partnerships
Were any meaningful partnerships formed (inside or outside of crypto)?

Stronger weighting emphasized on paying clients and/or real-world adoption

Has the project been used at all in 2018?
Are other projects and/or developers building on top of the project?
#4 Token design and price action throughout 2018.
MV = blah blah blah – does the token actually accrue intrinsic value?
How did the token perform throughout the year relative to BTC?

(This is also a proxy measure for the strength of a community: strong project -> more faith -> iron hand HODLers -> less decrease in price)
Okay, now that's all out the way, let's fly straight into the top 10 of 2018 with…
10. Ravencoin – A Master of Truth and Equality for Everyone
Ravencoin is a Bitcoin-code fork designed for transferring token-backed security assets from one holder to another. Ravencoin's network launched January 3 with more than 100 miners joining on the first day using Ravencoin's new ASIC-resistant x16r mining algorithm.
Product development –

6.5
Development began Oct 2017 with Tron Black as the initial core developer.
Open sourced community driven project where anyone can contribute to GitHub to join over 500 other contributors
Q4 first major milestone achieved with Ravencoin's mainnet asset layer, allowing for issuance of security, gaming, and other tokens on the network.
December saw the RVN token being used by Overstock's investment arm Medici Ventures to purchase 3.6 million shares from Chainstone Labs
Community and marketing –

7
Ravencoin's community consists of decentralized developers and followers and the community has grown organically since launch due to the decentralized and fair ethos Ravencoin stands behind. The network uses an ASIC resistant mining algorithm, had no pre-mine, no ICO, and functions without any central governing body. The community is glued together by an added dash of hopium for the security token market taking off, which will likely see Ravencoin fly along with it.
Bruce Fenton served as the initial evangelist and mastermind behind Raven Coin who first introduced it to the world.
Business development and partnerships –

5
Overstock invested millions into initial development of Ravencoin and is what first drew initial interest from the wider crypto community.
Rumors of potential partnerships with Tzer0 and Polymath have surfaced due to Fenton's connection as an advisor to these projects.
Token design and price action for 2018 –

7
RVN token is a PoW based token used to secure the network and enables users to create new asset-backed tokens by burning RVN.
Since its launch, the RVN token has exhibited an upwards positive price trend through most of 2018.
Binance listed RVN in October and this saw the token double in price shortly after, reaching a $125M market cap. RVN has since hovered around the 100 cryptocurrency rank mark to close off the year.
TOTAL Score: 25.5
The Ravencoin community and network has grown as a grassroots movement since via word of mouth with mining pools taking an early interest in the network.
It's ethos as a decentralized and fair community has brought like-minded people together, as well as developers who are regularly contributing to the project. As the security token market evolves and establishes itself, it will be interesting to see where Ravencoin will fit into the mix.
Brownie points: The name was derived from the use of ravens in the fictional world of Westeros (Game of Thrones) being messengers that carry statements of truth, hence Ravencoin.
9. Bitcoin – The Big Mack Daddy of Cryptocurrencies
Bitcoin is a Proof-of-Work based cryptocurrency that.. requires no introduction.
Product development –

7.5
Community and Marketing –

9
Bitcoin maximalists are still plentiful and even some minimalists have been shook and made converts throughout this dire bear market as they saw shitcoins fall from 'grace'. For the foreseeable future, there is little doubt the Bitcoin community will strive on in strength.
Recent boom and bust cycle saw Bitcoin front and center on mainstream and crypto media outlets throughout the whole year providing great marketing for Bitcoin.
Business development and partnerships –

6
When it comes to biz dev, partnerships and adoption, it hasn't been the best year for Bitcoin:

Bitcoin ETF applications have been rejected multiple times.
After Steam stopped accepting Bitcoin payments in Dec of 2017, several major companies followed suit in 2018 including Stripe, Microsoft, Reddit, and Expedia due to Bitcoin's volatility, transaction times, and fees, which served as a major blow to adoption
Chainalysis report determined that the value of bitcoins handled by major payment processors fell by almost 80% by Q3 2018

Bakkt Bitcoin Futures market and Fidelity's announcement is possibly one of the most positive events for Bitcoin in 2018 – all of the failed ETF applications have not been for naught, as they serve to pave the way for an ETF in the near future.
Token design and price action for 2018 –

5
Bear market of 2018 saw Bitcoin fall from peak highs in January by more than 80%. In the wider outlook of things, this is normal as Bitcoin has averaged a 63% decline from peak prices in previous cycles, with the highest drop of its lifetime being 93%.
TOTAL Score:

27.5
Bitcoin has taken off its belt and whipped most altcoins, as well as its self on the back throughout the whole year. Aside from poor price action and loss of adoption as a payment currency by some major retailers, Bitconi's progress in development, community, and marketing has made up for some of its shortcomings in 2018.
8. Chainlink – The Meme is Real
Chainlink is a decentralized oracle solution for smart contracts that acts as a bridge between on-chain smart contracts and off-chain resources such as data feeds, web APIs, banks, and more.
Chainlink spent most of 2018 relatively low-key; only in the latter half of the year did they kick off their marketing and start making some serious noise. These efforts saw LINK's token price surge rapidly during the worst bear period of the year in Q4.
Product development –

7
Community and marketing –

9
Chainlink has a cult-like following of fans who are self-proclaimed "stinky linkies" and "Link Marines". The community behind Chainlink is phenomenal as they have made Chainlink one of the most talked about and followed coins on 4chan.
Throughout 2018 countless Chainlink memes were created and shared between community members, many of which focused on Founder and CEO Sergey Nazarov:
Q3 saw Chainlink's marketing efforts take off after they hired a Director of Marketing and this saw regular partnership and press release announcements taking place, as well as regular speeches and event attendance being conducted by their CEO.
Business development and partnerships –

7.5
Token design and price action for 2018 –

8
LINK token is an ERC20 token used to pay node operators for data retrieval from off-chain feeds, data formatting, off-chain computation, and uptime guarantees.
In terms of price action, LINK exhibited a negative trend and hovered in and out of the top 100 until half way through the year where it shifted gears into a positive trend finishing the year strong with a rally during the midst of the worst bear market of Q4 for the year. At this time LINK broke into the top 50 ranked projects, which it has maintained to cap off the year.
TOTAL Score:

31 .5
Chainlink is undoubtedly the leading decentralized oracle solution however the question remains as to whether their solution works in a live environment. Overall the team made solid progress from a development and business standpoint, and with a strong community behind them, it's up to the team to deliver.
7. QuarkChain – Hype Me Up Scotty!
Quarkchain is a new blockchain protocol that incorporates a unique method of "sharding" to enable high transaction throughput as well as cross-shard transactions. Quarkchain was one of the hottest and most-talked about ICOs throughout all of 2018 and at one point was the most highly sought after project.
Product development –

7
Q1 – Alpha testnet with 8 shards privately showcased to investors
Q3 – Release of Public "Testnet 1.0" with support for EVM-based smart contracts
Q4 – Testnet 2.0 launch allowing anyone to join the network to mine blocks
Release of qPocket wallet, block explorer, and more
Community and marketing –

9.5
Quarkchain became one of the most hyped ICOs in 2018 during the peak of the "scalability" trend with a claim to fame of 1,000,000 TPS.
Last minute FOMO from major crypto VCs and funds resulted after Quarkchain's live testnet was shared among investors through private logins (pictured above)
Following their ICO, Quarkchain led weekly and bi-weekly progress reports along with AMAs for the community to interact and engage with the team
Other frequent community building efforts included: competitions, quizzes, and bounties to keep engagement levels high between their community
Business development and partnerships –

7.5
Many strategic partnerships were established in 2018 with other blockchain projects. At least 10 projects announced their intention to build on QuarkChain's network.
Partnerships established included CertiK, Gifto, Celer Network, Perlin, Ankr Network, OneLedger, DREP, DxChain and many more.
Whether these partnerships eventuate in real tangible value remains to be seen.
Token design and price action for 2018 –

8
Token value indirectly tied to adoption and use of the network.
Binance listed QKC token in July and this saw QKC reach peak returns of 20x over ICO price, followed by a steep decline till August where the price leveled out and began a steady climb upwards to close out the year.
Q4 had QKC hovering in and out of the top 100 cryptocurrencies on CoinMarketCap
TOTAL Score:

32
Quarkchain showcased stellar marketing and community building efforts throughout 2018 and established partnerships with some reputable blockchain projects. A lot is riding on the launch of their mainnet and ultimately in the adoption of their network, which is no easy feat as plenty of competition abounds when it comes to scalable blockchains in the crypto space.
6. Holochain – Dark Horse of 2018
Holochain is a blockchain alternative incorporating a peer to peer agent-centric model for data distribution.
As a tamper-proof distributed ledger, Holochain combines hashing, digital signatures, and a distributed hash table (DHT) system without the need for global consensus between network participants. Holochain has lofty ambitions and aims to re-build the internet from the ground up and change the way that the internet functions forever.
Product development –

8.5
Community and marketing –

9
Holochain was one of the more hyped projects in 2018 after FOMO and interest ensued following their ICO.
In terms of communication and content marketing, Holochain did a phenomenal job with regular updates, blog posts, educational material, and live events being hosted around the world.
Holochain held an Initial Community Offering strongly emphasizing their community building efforts by making their ICO as inclusive, open, and as transparent as possible.
Business development and partnerships – 

6
Holochain is in talks with Mozilla about a potential partnership
Several projects have chosen to build dApps on Holochain, none of which are particularly notable.
The team focused more on development and community throughout 2018 resulting in slower progress made in terms of partnerships and biz dev.
Token design and price action for 2018 –

9
The ERC20 Holochain HOT token can be exchanged for Holo Fuel once mainnet launches.
Holo Fuel serves as a medium of exchange token with its value dependent on cost of computing power in the Holo network. When demand for hosting and computing power increases, Holo Fuel increases in value due to greater buying power.
Holochain quickly rose to 5x, 10x, and then 15x ICO returns over a week after listing. The HOT token broke through the top 100 as a result, only to fall out and surge once more later on after listing on Binance in July.
Throughout the Q4 bear market the HOT token has held steady in value hovering between the top 50 to 60 ranked cryptocurrencies.
TOTAL Score:

32.5
Holochain is up there as one of the most ambitious projects in this space with their eyes set on changing how the internet functions. Driven by this grand vision, the team has exhibited a strong desire to deliver on their promise. Holochain's mainnet is set to launch in 2019 and we can expect  more partnerships from them throughout the new year.
5. TRON – The Unchosen One
TRON led by wonder-kid Justin Sun, the first millennial to graduate from Jack Ma's Hupan University is considered by many a masterful shill, marketer, and troll, all wrapped into one.
If you didn't know by now, TRON is a multi-purpose blockchain platform targeted towards the entertainment industry (gaming, gambling, and more) that offers smart contract capability and decentralized applications (dApp).
Product development –

8
Community and marketing –

8
Huge price surge in January put TRON on the map for many crypto heads and casuals resulting in a die-hard community that formed around TRX HODLers who seem willing to defend and tout the project to their death.
Justin Sun's constant Tweets throughout 2018  saw a ton of media attention and free publicity for TRON leading to more eyeballs and attention on the project.
Despite the strong community of die-hard fans, TRON has not been considered a serious project by many within the top crypto echelons primarily due to the CEO's antics and marketing tactics employed.
Business development and partnerships –

8
Notable partnerships: Binance Charity Foundation, Baofeng (Chinese Netflix), OBike (rent a bike), Peiwo (Chinese snapchat), Baidu (Chinese Google).
A major move by TRON was the acquisition of BitTorrent, which is now set to launch its own ICO in 2019 through Binance's Launchpad.
Token design and price action for 2018 –

9
TRX token experienced a HUGE pump at the start of the year in January, followed by a massive decline that leveled out for most of the year and exhibited a mini rally late December. The initial January pump rocketed TRON into the top 10 of CoinMarketCap where it has hovered around for most of the year.
TOTAL Score:

33
It was unexpected that TRON would make this list, however looking at their progress throughout the year objectively, there is no way to exclude them.
With their ICO finishing in September 2017, they quickly launched themselves into the top 10 valued projects in 2018 and followed shortly with a mainnet, multiple partnerships to several big name companies, and acquired BitTorent.
Not bad Justin, not bad at all.
4. Zilliqa – Researchers Turned Technicians
Zilliqa is a new high-throughput blockchain created by a team of researchers from the National University of Singapore. These academics have put blockchain sharding theory to real life practice in order to solve the scalability issue faced presently by many blockchains.
Product development –

9
Q2 saw:
Q4 public Testnet v3.0 launched to external miners with smart contract sharding.
Community and marketing –

9
Business development and partnerships –

8
Token design and price action for 2018 –

9
ZIL token accrues indirect value if network becomes widely adopted and used.
On initial listing ZIL reached 17x initial ICO price, which was later surpassed in Q2 leading into ZIL being listed on Korean exchanges.
Since then the token price has fell and leveled out in August where it has maintained a stable price to end the year.
ZIL finished the year ranked in the top 30 cryptocurrencies by valuation.
TOTAL Score:

35
Zilliqa made some serious headway throughout 2018 after concluding their ICO at the start of the year. As a group of academics and researchers they have done a stellar job taking off their lab coats and donning entrepreneurial hats to make shit sharding happen. Kudos to them, and I look forward to see how things progress for them once their mainnet launches in 2019.
3. Factom – Making Data Sexy Secure
Factom is a blockchain protocol securing data by hashing it onto the Factom and Bitcoin blockchains. Hashing data makes the data immutable, traceable, and easily auditable for the future.
Factom does not actually store the data or documents itself, it stores the hash of the data and documents recording its existence, thus securing and proving that the document existed at one point in time, which can be used as a reference point in the future to determine where the data has been tampered with.
Securing data is the core function of Factom however their protocol also provides traditional blockchain offerings with the ability to build and deploy decentralized applications.
Product development –

10
Community and marketing –

8
Factom was quiet for most of 2017 and 2018 on the crypto front as they aimed their marketing efforts toward the mortgage industry and in the adoption of the Factom Protocol via real-world partnerships.
The community behind Factom nevertheless held strong to form a tight-knit community of believers and supporters.
There are currently 26 Authority Node Operators as part of the protocol. Since reaching the M3 milestone, the team has provided regular updates to the crypto community through development and grant updates.
The team and community are highly active throughout the Factomize Forum, Discord group, and subreddit.
Business development and partnerships –

9.5
Token design and price action for 2018 –

10
Factom's token price is directly linked to adoption and use of the protocol. Factom incorporates a 2-token system so enterprise companies are not required to handle cryptocurrencies providing an easier route for adoption with current business practices.
A comprehensive report and breakdown of Factom along with their token design has been written by Multicoin Capital.
Factom's token price languished for most of the year as it fell in and out of the top 100 cryptocurrencies throughout Q1 to Q3.
During the dire bear market of Q4, Factom's token price soared and FCT broke through the top 50 following the release of news of Equator's adoption of the protocol, along with support for FCT on Ledger hardware wallets.
TOTAL Score:

37.5
Factom isn't the sexiest crypto project on the block as it primarily secures data, however it does have great adoption and investment appeal. As a veteran in this space, Factom is a likely glimpse into the future for projects that have recently launched in the past year or so, granted such projects are able to deliver, attain real-world adoption, and create a product/service that is actually valuable.  
2. MakerDAO – Do or Dai
2018 saw the proliferation and rise of many stable coins with MakerDAO behind one of those stablecoins. MakerDAO offers an elegant crypto stablecoin solution built on Ethereum's blockchain with Dai tokens being equal to $1 USD.
Simply put, to get Dai you lock Ether into what is known as a "collateralized debt position" (CDP), which is essentially an Ethereum smart contract. The collateralized Ether has the smart contract provide you with Dai relative to the amount of value in the Ether locked, and if the ETH price reaches a certain threshold, you will have to either pay back the smart contract, or lose your collateralized ETH.
Product development –

9.5
Community and marketing –

9.5
MakerDAO holds regular community meetings each Tuesday with weekly audio recaps of Governance and Risk meetings. Meetings are recorded for anyone to join and listen to.
Team engagement focused primarily on RocketChat, Reddit, and Twitter, all of which are highly active.
CEO frequently active throughout all platforms, and also in community calls where followers can directly ask any questions
Several online and offline events hosted world-wide as away for the community to connect with the team.
Q4 saw announcement of the Core Community Development Initiative to leverage their community and get them involved in the project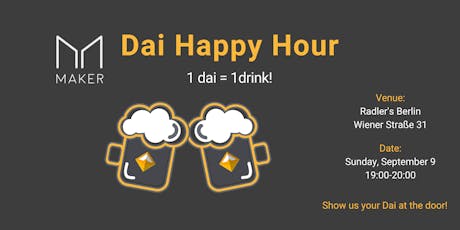 Business development and partnerships –

10
MakerDAO has over 200 partnerships with more notable ones being:
Exchange listing wise Bitfinex and Ethfinex started trading Dai and Coinbase listed Maker and Dai with many other exchanges supporting Dai as a stablecoin in 2018.
Token design and price action for 2018 –

9
Value of Dai held steady throughout the year and functioned as intended without depegging from $1 USD despite the tumultuous bear market of 2018.
Q3 saw A16z purchase a further 6% of MKR token supply for $15 million USD.
At the start of the year MKR was nowhere to be seen in the top 100 and finished the year strong at #19.
Total Score:

38
Dai worked as a crypto backed stablecoin through possibly one of the worst bear markets that the crypto industry has seen. As things progress with a multi-collateral Dai soon to be released, and MakerDAO's transition towards a Decentralized Autonomous Organisation (DAO), this could see Maker's fall from grace if things go awry, or have Maker serve as a model project to follow when it comes to product success and successfully operating as a DAO.
1. Binance – Funds are SAFU (.. for now)
Binance is a cryptocurrency exchange that became one of the fastest startups to ever achieve profitable Unicorn status ($1 billion valuation as a private company) in under 6 months. The crypto exchange launched on July 14, 2017 and has since experienced exponential growth.
After becoming the #1 exchange in terms of trading volume five months after launch, Binance has remained among the top three exchanges in terms of trading volume for most of 2018.
Product development –

10
Binance made a LOT of moves in 2018 including launching: Binance Labs (23 projects invested with regular incubation labs and hackathons), deployed Binance Chain testnet, launched Binance Info, Research, Charity Foundation, Binance Academy, and also acquired Trust Wallet.
Binance fiat-to-crypto exchanges deployed in Uganda and Singapore. Security Token exchange licenses awarded from multiple municipalities around the world.
Built dedicated Binance trading app and program for Apple, Android, and desktop use
Top crypto exchange in terms of trading volume with over 10 million users
Funds are #SAFU $10M USD bounty pledge against hackers to the exchange.
Provision of token distributions, airdrops, mainnet swaps, and forked tokens to their users.
Improved security infrastructure and protocols with enhanced customer service support through less delays and higher overall satisfaction levels.
Community and marketing –

10
Binance Founder CZ is a profound marketer, shill, and influencer for the crypto space:

CZ with Bermuda shorts as a photo meme with Premier David Burt
"Funds are safu" meme after hacking incident in Q1 was handled quickly and professionally by Binance
CZ on the front cover page of Forbes
Business development and partnerships –

10
Token design and price action for 2018 –

9.5
Binance token is well designed for its balance between value accretion to token holders while still accounting for shareholders. It remains to be seen whether Binance will face regulatory concerns/issues in the near future as some claim Binance has been operating quite gung-ho in this regard, especially with regards to the BNB token being a potential security token.
Token design incorporates buyback & burn system with 20% of Binance's profits each quarter dedicated to buying back BNB to destroy them thus increasing its value.
BNB provides utility in terms of community votes, competitions, trading fee discounts, purchase of flights, hotels etc.
The BNB token entered the year at #38 and finished the year at #13. Relative to BTC the token value performed strongly throughout 2018.
TOTAL Score:

39.5
For us, Binance was the clear winner of 2018, almost everyone knows about Binance in the crypto space, and the majority have likely used the exchange and probably could not fault it in terms of design, ease of use, or customer support.
With a community of more than 10 million users worldwide, and partnerships being established with national government agencies, what more could be asked for of a crypto project? Having said that though, Binance may continue their upwards ascent through 2019 and beyond, or they could potentially face rocky waters if international regulations decide to come down hard on them in the near future.
---
That about wraps it up for a monster post on the top 10 crypto winners of 2018.
If you're fiending for more posts like this, sign up to our email list below and we'll notify you when we publish new articles.
Until then, thanks for reading and keep on building (or HODLing, or don't, or, well, uhh you can go do whatever you wanna do)!
(Special thanks to Olga Kirikova for her help with this article!)